Update pipeline fields from the Opportunities List
OneTeam now allows for you to quickly update multiple opportunities at a time directly from the Opportunities List.
This feature is currently in Private Preview and is available upon request for companies with Premium subscriptions.
Go to the Opportunities List (click on Opportunities in the main navigation bar).
Click in a cell for one of the following columns (opportunity fields):
Internal Status
Acquisition Status
Contract Value
Company Revenue
Buying Organization
Buying Office
P-Award
P-Win
RFI Release
RFI Due
Draft RFP
Final RFP
Proposal Due
Contract Award
Contract Start
Set a new value for the cell.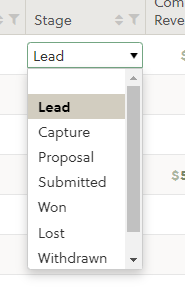 Repeat Steps 2 through 3 for any additional updates that you would like to make.
When you are done, click the Save button in the toolbar.