Use Notes to Support BD Meeting or Pipeline Review in OneTeam
Determine and document your BD Processes BEFORE implementing them with your team.
Here are some questions to help guide you through the process of implementing a Weekly or regular BD Meeting, where Capture Managers present a quick overview of their assigned opportunities. You can adapt this process to your company BD processes and use the same functions for a full pipeline review or other meeting. To successfully implement the OneTeam tool and integrate with existing processes, outline your new process, train the team on the new process, and then implement the process on a regular basis. Some example questions to help you determine how to implement OneTeam into your BD process:
How often should Captures Managers make an update of the opportunity to share in a meeting or briefing? Will it be
Weekly for all opportunities?
Weekly for opportunities with RFP Release date less than 9 months away?
Monthly for opportunity RFP release dates of 12+ months away?
What terminology will they use for this update or brief?
Will these Notes be called Status Update, Weekly Update, Weekly Brief, Monthly Update, or other terminology? Everyone must use the same terminology so that they know where this information is located. Also, this allows for easy keyword search.
How are updates reviewed?
Will they be done in a live presentation or meeting, or will manager simply review them online?
What information do you want to gather?
Here are some examples and suggestions"
Date of last update
Changes since last brief
Schedule status
Customer contacts – phone, in-person, email
Teaming status
Upcoming Events – Industry Day, Site Visit, Gate Review, etc.
Decisions or support needed
Next steps and actions
The Day Before the Scheduled BD Meeting
Capture Managers create a 'Weekly Brief' (or whatever terminology your process has determined to be used) in the Notes tab for each assigned opportunity. From the opportunity file, select the NOTES tab.
Then Select +Add button (on left side), which will open a new note.
Use predetermined keywords for the title and add content - these terms can be searched and filtered in the Activity Feed.
OneTeam will automatically record the author's name and the date.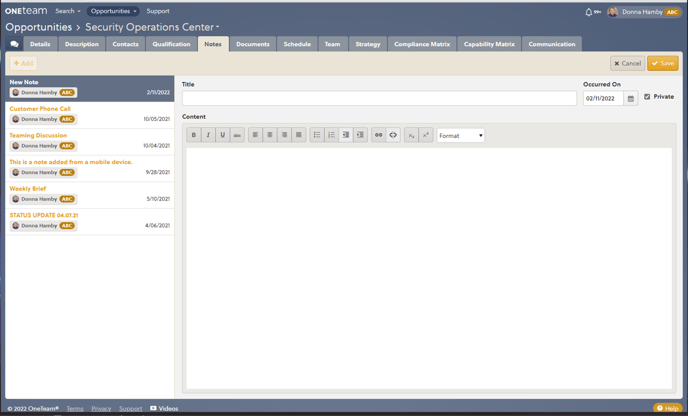 The content of the Note can be customized as needed. Users can cut and paste information into the Note window. To the right of the Note Title there is a 'Private' button. Private means that teaming partners will not be able to view the note, but your internal team can view the note. Here is example information for a Weekly Review, or Weekly Status, or similar Note.
Last Update Date of last brief on opportunity
Changes since last BD meeting Change in NAICS, procurement strategy, or CO
Schedule Summary

U

pdates from GovWin or another site
Customer contacts Detail meetings, phone calls, emails
Teaming Status of team, TAs, etc.
Upcoming events Site visit, gate review) Date and attendees
Next steps and actions Plans, support needed, gate review, teaming, etc.


During BD Meeting
Select the Opportunity to be presented from the Opportunities (pipeline) view. If you created a custom view for the meeting, the view creator will need to select the checkbox 'Share with Company' for all user to add this view to their view list. Select the ACTIVITY FEED (blue button). The ACTIVITY FEED for that opportunity will pop-up in blue pane on left margin.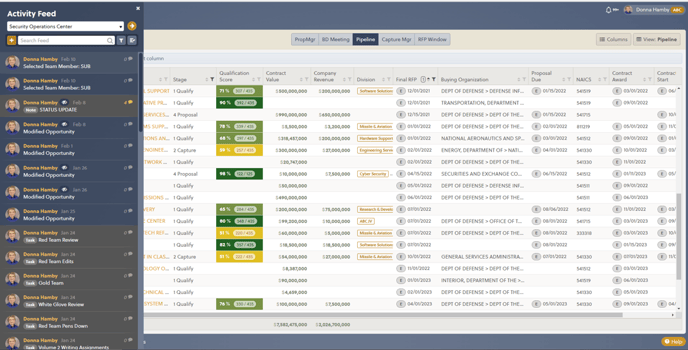 Select and open the Note called Weekly Review (or other name you have pre-determined). If there are many such Weekly Reviews, use the search bar to search for the name of your Note (Weekly Review, Status Update, Weekly Brief). Then all Notes with that term will be immediately filtered. Select the most recent Note.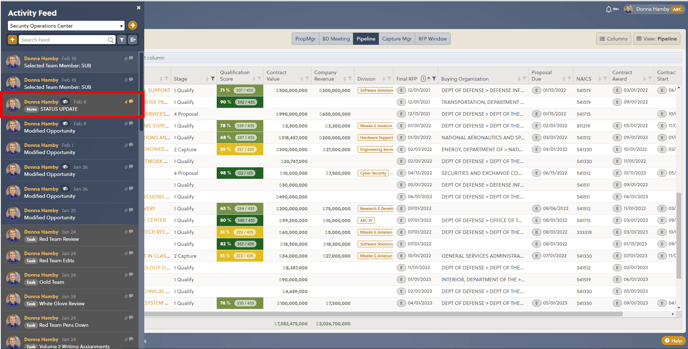 The selected Note will open an additional blue pane showing contents of the Note. You may brief from this note, and it can also be edited in real-time.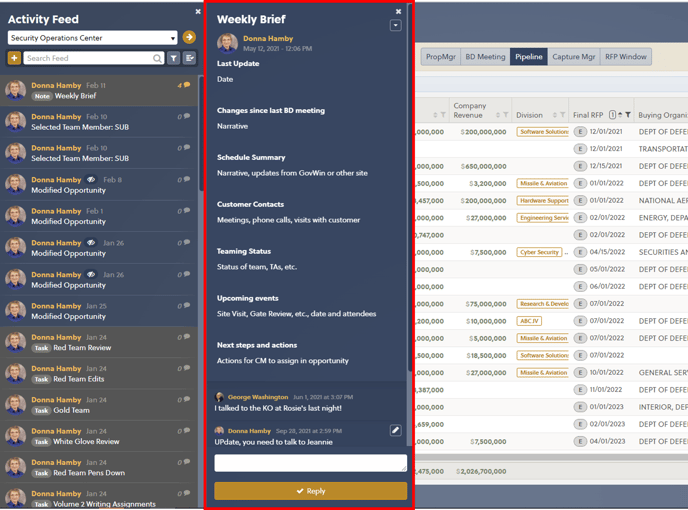 You may add comments, tasks, assignments, ideas in the Reply Section of Status Update (Red below)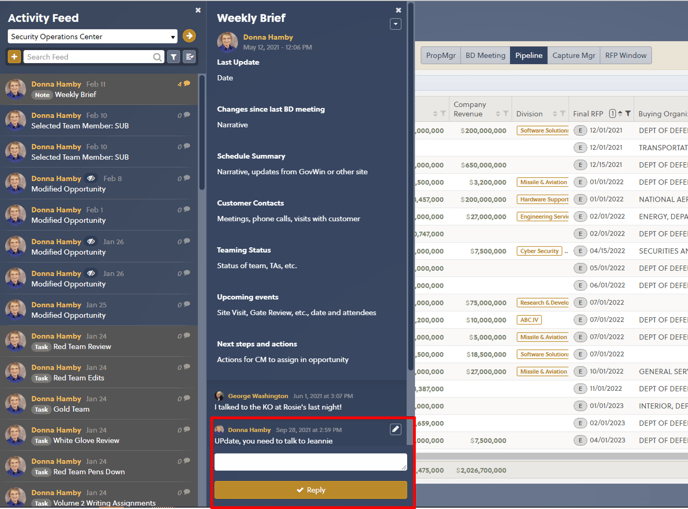 After BD Meeting
Capture Managers review comments and actions from each STATUS UPDATE Notes for each opportunity that was presented during the meeting. They can then easily
Create task items for actions within the opportunity.
Add information to the Strategy Tab, update the opportunity details page or other actions that may be needed.