Overlay events onto your Outlook calendar
Users can integrate opportunity events, milestones, and tasks from the OneTeam Schedule Tab with Microsoft Outlook.
Select the 'Subscribe' button on the Schedule Tab and this message will be displayed.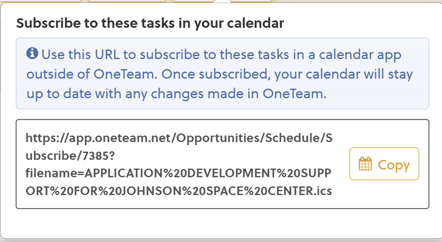 Open the Calendar view in Outlook 2016.
Go to the Home Tab in Outlook 2016 and select the 'Open Calendar' dropdown.
Select 'from internet' - a field will open for a link.
Go to the opportunity in OneTeam, Schedule tab.
Select Subscribe button.
Select the 'Copy' button in OneTeam in the 'Subscribe to these tasks in your calendar'.
Paste the OneTeam URL into the field in Microsoft Outlook.
Select 'Yes' that you want to add this calendar to outlook and subscribe to updates.